With harmful algal blooms (HABs) occurring in the nation's lakes, bays and sounds, NCCOS is expanding HAB monitoring and forecasting to these smaller water bodies which can be resolved by current satellite imagery.
In Louisiana, cyanobacterial blooms can occur in Lake Pontchartrain and nearby Mississippi Sound. Potential cyanobacterial blooms can also occur in other coastal Louisiana lakes and bays. In response, NCCOS has recently expanded and updated its HAB monitoring satellite page for the Lake Pontchartrain area to support the Louisiana Department of Environmental Quality.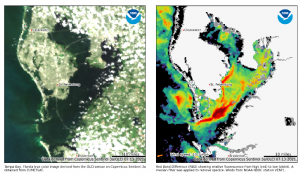 In Virginia, in cooperation with NOAA/NESDIS's CoastWatch program, higher resolution products from the Sentinel 2 satellites are being used to monitor smaller water bodies in Lake Anna, Lake Gaston and Smith Mountain Lake to support the Virginia Department of Health. See: https://coastwatch.noaa.gov/cw_html/NCCOS.html
In Florida, the NCCOS HAB Monitoring website for SW Florida now includes a page on the Tampa Bay area in response to the state's concerns about HABs resulting from controlled wastewater releases from the Piney Point abandoned phosphate processing wastewater ponds.
Here is a list of current NCCOS HAB monitoring and forecasting geographic areas.
Future pilot studies are being considered for Puget Sound and other locations.