NCCOS Facilities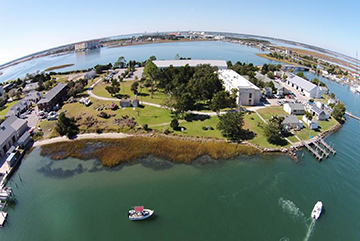 Beaufort, NC
The NOAA Beaufort Laboratory
The NOAA Beaufort Laboratory, opened in 1899, is the second oldest federal marine laboratory and home to scientists from NOAA's National Marine Fisheries Service and National Ocean Service. Operated by NCCOS, this 60,000 square-foot lab on Pivers Island is recognized for a variety of research, including: seagrasses, coral reefs, harmful algal blooms, seafloor mapping, aquaculture, and salt marsh ecology. The lab also houses the North Carolina Coastal Reserve and National Estuarine Research Reserve, which serve as living labs for scientists and students to learn about coastal systems. The lab has a full SCUBA diving roster, small boats, aquaculture systems, high-tech labs for cell analysis, necropsy facilities, electronics workshops, classrooms, and a large auditorium.
101 Pivers Island Rd, Beaufort, NC 28516
(252) 728-3595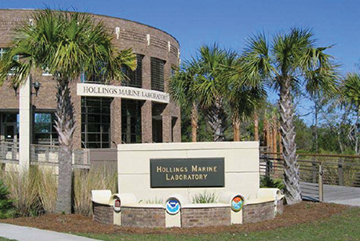 Charleston, SC
NOAA Charleston and Hollings Marine Laboratories
NCCOS's Charleston Laboratory is a 45,000 square-foot facility that includes chemistry, toxicology, molecular, microbiology, and ecology laboratories. The lab has separate facilities for culture of coral species, as well as labs to simulate and assess impacts of climate and stress changes. There is a similar building for the challenge of fish and invertebrates to chemical contaminants, and a greenhouse-enclosed salt marsh mesocosm with tidal influence, to assess the effects of contaminants under conditions simulating a southeastern U.S. estuarine habitat. The Hollings Marine Laboratory is a partnership between NCCOS, the National Institute of Standards and Technology, the Medical University of South Carolina, South Carolina Department of Natural Resources, and the College of Charleston. This 103,000 square-foot lab, run by NCCOS, promotes collaborative and interdisciplinary scientific research to sustain, protect, and restore coastal ecosystems.
331 Fort Johnson Rd, Charleston, SC 29412 (843) 762-8808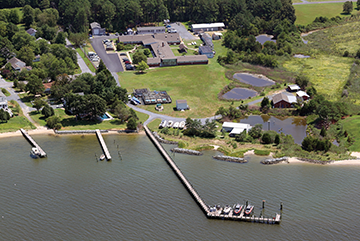 Oxford, Maryland
Cooperative Oxford Laboratory
Located on the shores of Chesapeake Bay, the Oxford Laboratory was established in 1960 primarily to investigate oyster diseases that struck the region in the late 1950s. The facility became the Cooperative Oxford Laboratory in 1987 through an agreement between the Maryland Department of Natural Resources and the National Ocean Service to share the facility and cooperate in research. NCCOS operates the 16,000 square-foot main laboratory, with onsite partners, including: NOAA's Chesapeake Bay Office, the Maryland Department of Natural Resources, and the U.S. Coast Guard. The lab has a 55-foot research vessel used for regional research.
904 South Morris Street Oxford, MD 21654 (410) 226-5193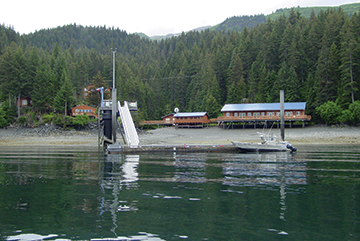 Seldovia, AK
Kasitsna Bay Laboratory
The Kasitsna Bay Laboratory has been the Alaska field station for both NCCOS and the National Marine Fisheries Service since the late 1950s. The University of Alaska Fairbanks helps NCCOS operate the lab. The facility includes a 1,400 square-foot, running seawater lab that hosts research on coastal impacts of climate change, ocean acidification, harmful algal blooms, and monitoring and change of nearshore biodiversity. The lab also serves as a testbed for underwater technology in high-latitude coastal ecosystems and under rugged conditions. This facility includes dormitory buildings with housing, kitchen, laundry, and internet for up to 48 people.
95 Sterling Highway, Homer, AK 99603 (907) 235-4042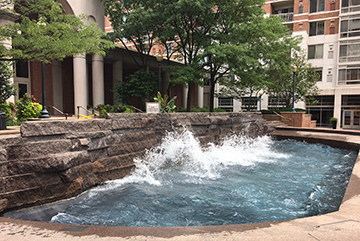 Silver Spring, Maryland
NCCOS Program Office and Headquarters
NCCOS leadership, scientists, and support staff are co-located with other NOAA offices in Silver Spring, MD. NCCOS employees plan, manage, and execute the budget; set information technology policy; and provide policy and communications support to NCCOS leadership in its internal and external partnerships, and in its interactions with Congress. The program office manages the Competitive Research Program and the RESTORE Act Science Program, and supervises or conducts science, research, and associated product development.
1305 East West Highway, Rm 8110, Silver Spring, MD 20910 (240) 533-0300