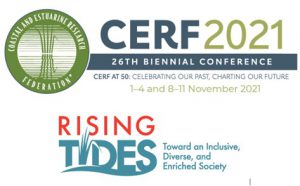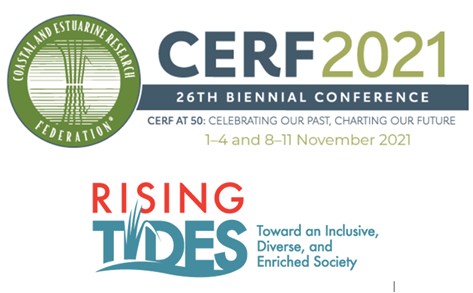 NCCOS sponsored and participated in the 2021 Coastal and Estuarine Research Federation (CERF) 26th Biennial Conference, which was held virtually on November 1-4 and November 8-11, 2021. NCCOS scientists and sponsored investigators led numerous special sessions and gave oral presentations.
NCCOS is also a proud co-sponsor of the CERF 2021 Rising TIDES program. The CERF Rising TIDES (Toward an Inclusive, Diverse, and Enriched Society) is a comprehensive program designed to enhance diversity and inclusion in coastal and estuarine science and at CERF conferences. Rising TIDES provides support for underrepresented students to participate in the conference and CERF affiliate society meetings. The NCCOS partnership with CERF made it possible for eight students in the Rising TIDES program to attend CERF 2021.
NCCOS scientists and sponsored investigators hosted six CERF 2021 special sessions and provided over 25 oral presentations on research on coastal hypoxia, effects of sea level rise on coastal economies and ecosystems, harmful algal blooms, ocean acidification, and nature-based systems.