NOAA scientists co-developed a story map about protecting California's transportation infrastructure from sea-level rise and flooding, highlighting insights from a unique partnership between the California Coastal Commission (Coastal Commission) and the California Department of Transportation (Caltrans).
Based on their partnership, the Coastal Commission and Caltrans offer four insights on how they are approaching threats from flooding and erosion due to rising seas and changing precipitation patterns. The insights are relevant to all coastal states and are highlighted by exemplary projects and planning efforts that increase coastal resiliency. If followed, these insights can take coastal transportation projects beyond an asset-by-asset focus with chronic, piecemeal, and expensive repairs in hazardous areas, towards longer term approaches with more holistic and resilient corridor management strategies that will ensure travelers reach their destinations throughout changing circumstances into the future. Critically, following these insights as recommended also simultaneously ensures that valuable recreational and ecological resources are protected and expanded along the coast.  Adopting phased adaptation principles, incorporating nature-based solutions, and ensuring the resiliency of natural coastal ecosystem processes over time also are improving the state's ability to manage short-, medium- and long-term considerations for the coast.
Longer term perspectives are needed in planning as it is known with complete certainty that sea level is going to continue to rise in California. For projections of how much it will rise in the next 5–30 years there is a narrow range of expectations. This means the information needed to take action now is available and there are reliable strategies for planning with less certain projections between 2050 and 2100 for infrastructure planning that may require a longer planning horizon. In addition to the four insights, the story map also highlights resources, including transportation specific planning guidance, water level and coastal change viewers, and engineering considerations for nature-based designs, that can help with project specific scenario planning.
"We are compelled to act now from a corridor perspective that incorporates climate change projections if we want to continue to have California's iconic coastline and the ability to access it", says Tami Grove, statewide transportation program manager with the Coastal Commission. Grove further adds that "The story map highlights the importance of good science and the significant, proactive infrastructure investment that is needed. Failing to step up to the challenges of climate change isn't acceptable from either an economic or livability perspective. Can you imagine the California Coast without its beaches and wetlands for everyone to access and enjoy?"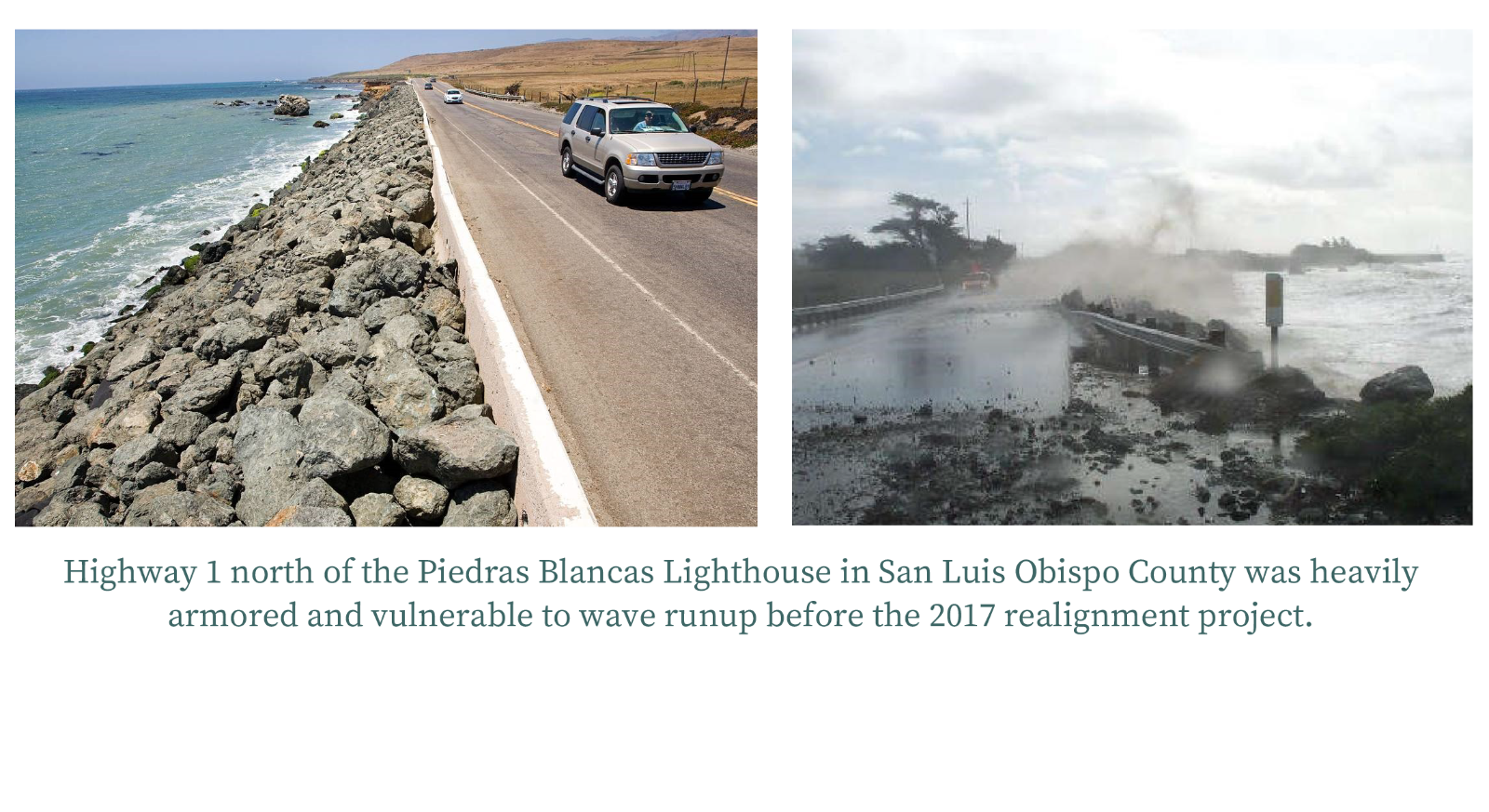 The story map highlights that, despite the significant costs of adapting infrastructure to deal with sea level rise, planning for resilience and investing ahead can be far more cost effective than waiting for impacts to occur. In other words, it is cheaper on an absolute basis to anticipate and avoid climate impacts than to wait for disasters to occur and clean up or rebuild afterward. For example, the 2019 Natural Hazard Mitigation Saves Report found that society saves up to $13 for every dollar invested in reducing flood, hurricane, wind, earthquake, and wildfire risk.  Another report from the National Institute of Building Sciences in 2019 provided case studies on the cost savings of hazard mitigation projects and reported savings that ranged from $1.30 to $31 for every dollar invested for most transportation and water infrastructure projects. Furthermore, the story map notes that thinking beyond short-term solutions also offers communities opportunities to imagine and invest in social and economic improvements over the medium-and longer-terms that will be necessary to resiliently respond to climate change. The Coastal Commission and Caltrans continue to expand their work with other stakeholders to address the threats and uncertainties that climate change poses to shoreline communities, industries, and economically and environmentally valuable coastal resources. It is the intention of this story map to serve as an example of what can be achieved when infrastructure and environmental agencies work effectively and to share resources relevant to transportation planning and coastal resource management.
"Collaboration is and will continue to be critical for achieving a resilient transportation system here in California, our partnership with the Coastal Commission has helped us deliver transportation projects that will protect coastal resources in our state for current and future generations," said Jeremy Ketchum, Caltrans' Assistant Division Chief of Environmental Analysis. "This story map highlights the enormous challenges that sea level rise will bring, and we will need our local, state, and federal partners going forward to help us adapt to climate change."
The story map was created by NCCOS, in collaboration with CALTRANS, California Coastal Commission, Federal Highway Administration, and NOAA's Office for Coastal Management.