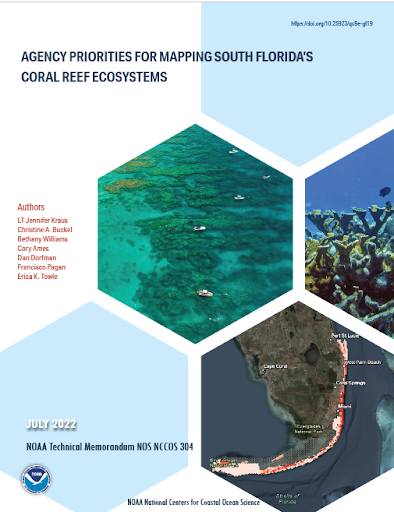 NOAA's Coral Reef Conservation Program uses benthic mapping data to support a variety of management decisions about coral reef ecosystems. To help the program efficiently allocate limited mapping resources, NCCOS and its partners identified priority mapping locations along the south Florida coast from Martin County to the Dry Tortugas. A new publication highlights the methods and results of the mapping prioritization effort.
NCCOS scientists developed a systematic, quantitative approach and online application to gather mapping priorities from researchers and coral reef managers. Participants placed virtual coins into a grid overlaid on the project area to express the location of their mapping priorities.
A total of 18 participants from 13 participant groups entered their mapping priorities into the online tool. Participants identified several high priority areas based on the ranking and total number of coins: 1) Port of Fort Lauderdale, 2) deep reef edge from northern Miami to Key Largo and the Port of Miami, 3) Hawk Channel area including two Sanctuary Preservation Areas (SPAs, Looe Key and Newfound Harbor), 4) Dry Tortugas National Park, and 5) the Mission: Iconic Reefs. These high-priority areas represent some of the best opportunities for collaboration, with the potential to meet a variety of coral management goals.