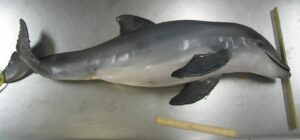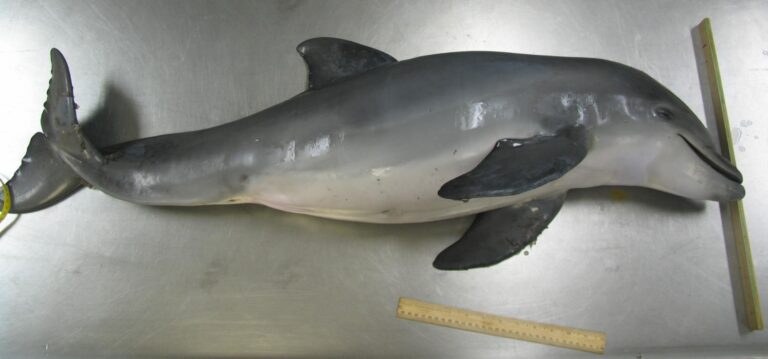 NCCOS tested 282 stranded dolphins in South Carolina for brucellosis, caused by the bacterial pathogen Brucella ceti. Nearly 32% tested positive. Results show that Brucella ceti was detected in a higher percentage of bottlenose dolphins that stranded in spring, the period for birthing.
This study is the first to directly characterize the temporal occurrence of Brucella ceti in the bottlenose dolphin over a six year period.
The marine bacterium B. ceti has been detected in over 50 cetacean species worldwide since its initial description in a bottlenose dolphin Tursiops truncatus calf in 1994. Brucella is an important pathogen of some terrestrial mammals,


including cattle, hogs, and elk, and is also zoonotic (capable of being transmitted from animals to humans). Higher prevalence is often reported in spring.
In humans, often called undulant fever, brucellosis is commonly contracted by consuming raw dairy products, It can also be contracted through the air or through direct contact with infected animals.
Another species, Brucella pinnipedialis, has been detected in pinnipeds (seals, sea lions, and walruses). Brucella infections can cause abortions, meningitis, bone infections, pneumonia, genital infections, and inflammation of the brain.
Due to the detection of B. ceti in samples from bottlenose dolphins during the 2010-2014 Gulf of Mexico Unusual Mortality Event, a long-term (six year) study of the prevalence of Brucella in stranded bottlenose dolphins from South Carolina was conducted. Of the 282 bottlenose dolphins tested between 2012 and 2017 that stranded dead, or stranded alive and then died, nearly 32% of the animals were positive for the bacterium (tested using a NCCOS-developed rapid genetic/PCR test on brain, lung, and blowhole swabs). The occurrence was more prevalent in the spring during calving season, a finding that wasn't surprising as terrestrial animals show a similar pattern, but has never been clearly demonstrated in dolphins. The occurrence was more prevalent in juveniles and was linked to a number of infant dolphins dying in the womb or shortly after birth (neonates).
There is a continued need to monitor exposure of stranded marine mammals to this pathogen to determine risk of zoonotic exposure to humans and to better understand the epidemiology of the disease in free-ranging cetacean populations. B. ceti is a relatively new discovered species and could be considered an emerging pathogen in cetaceans and a zoonotic pathogen of concern, especially for stranding network responders, biologists, clinicians, and veterinary personnel. Training of response personnel and volunteers should incorporate this information to educate them in the potential for transmission to themselves and the use of proper personal protection equipment.
It is also important that the tests be used as part of a wider diagnostic approach to cetacean stranding that includes nutritional status, body composition, histology, biotoxins, and contaminants since many disease and health parameters are cofactors for morbidity and mortality.
Citation: McFee, Wayne E., David Wu, Kathleen Colegrove, Karen Terio, Len Balthis and Robert Young. 2020. Occurrence of Brucella ceti in stranded bottlenose dolphins Tursiops truncatus coincides with calving season. Diseases of Aquatic Organisms 141: 185-193. https://www.int- res.com/abstracts/dao/v141/p185-193/