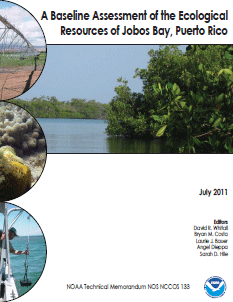 This baseline assessment of Jobos Bay and surrounding marine ecosystems consists of a two part series. The first report (Zitello et al., 2008) described the characteristics of the Bay and its watershed, including modeling work related to nutrients and sediment fluxes, based on existing data. The second portion of this assessment, presented in this document, presents the results of new field studies conducted to fill data gaps identified in previous studies, to provide a more complete characterization of Jobos Bay and the surrounding coral reef ecosystems. Specifically, the objective was to establish baseline values for the distribution of habitats, nutrients, contaminants, fish, and benthic communities. This baseline assessment is the first step in evaluating the effectiveness in changes in best management practices in the watershed.
This baseline assessment is part of the Conservation Effects Assessment Project (CEAP), which is a multi-agency effort to quantify the environmental benefits of conservation practices used by agricultural producers participating in selected U.S. Department of Agriculture (USDA) conservation programs. Partners in the CEAP Jobos Bay Special Emphasis Watershed (SEW) included USDA's Agricultural Research Service (ARS) and the Natural Resources Conservation Service (NRCS), National Oceanic and Atmospheric Administration (NOAA) and the Government of Puerto Rico.
The project originated from an on-going collaboration between USDA and NOAA on the U.S. Coral Reef Task Force. The Jobos Bay watershed was chosen because the predominant land use is agriculture, including agricultural lands adjacent to the Jobos Bay National Estuarine Research Reserve (JBNERR or Reserve), one of NOAA's 26 National Estuarine Research Reserves (NERR).
This report is organized into six chapters that represent a suite of interrelated studies. Chapter 1 provides a short introduction to Jobos Bay, including the land use and hydrology of the watershed. Chapter 2 is focused on benthic mapping and provides the methods and results of newly created benthic maps for Jobos Bay and the surrounding coral reef ecosystem. Chapter 3 presents the results of new surveys of fish, marine debris, and reef communities of the system.
Chapter 4 is focused on the distribution of chemical contaminants in sediments within the Bay and corals outside of the Bay. Chapter 5 focuses on quantifying nutrient and pesticide concentrations in the surface waters at the Reserve's System-Wide Monitoring Program (SWMP) sites. Chapter 6 is a brief summary discussion that highlights key findings of the entire suite of studies.