A Blue Ribbon Panel of scientists from NOAA, state, and academia recently released a report addressing environmental concerns with development of a net-pen aquaculture industry in the Great Lakes. The report, Great Lakes Net-Pen Commercial Aquaculture: A Short Summary of the Science , details many issues including the need for best management practices for operations and considerations of fish health and disease.Important ecological interactions attributable to aquaculture, such as: nutrient effects, invasive species, and escapes, are also identified.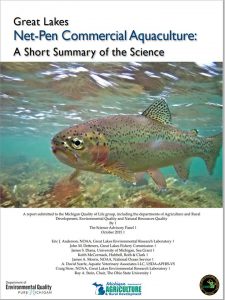 Given the size and delicacy of the Great Lakes ecosystem, special attention was given to considerations that areunique to the Great Lakes. The Great Lakes ecosystem accounts for 20% of the world's surface freshwater; however, decades of pollution, coastal development, overfishing, and the introduction of non-native species have caused severe impacts to the Lakes. Given the growing importance of aquaculture as a strategy to grow coastal economies, managers around the U.S. are considering ways to develop aquaculture to meet growing seafood demand.
Visit here for more information on how NCCOSis supporting national sustainable aquaculture practices or contact James.Morris@noaa.gov.